Sports Roundup
See below for all the sporting excellence updates from our MCHS students.
Please see below the After School PE Timetable, which will run from January through to April. We have a mixture of Handball, Football, Dance, Boxing, Netball and Yoga, and open to boys and girls - so please come a long and give something a go!
REWARD SCHEME FOR AFTER SCHOOL PE CLUBS
The PE department is running a new reward scheme for anyone attending After School PE clubs. Each student who first attends a club will be given a Meols Cop Extra Curricular Clubs Card. This card will then be signed off by a member of the PE Team every time they attend an after school sports club.Once a student fills their card having attended 10 clubs they will be given a new card and their old card put into a pot ready to be drawn at the end of each term. 5 Cards will be drawn at random and a prize will be given to those lucky winners.
Spring Term PE Time table:
Week 1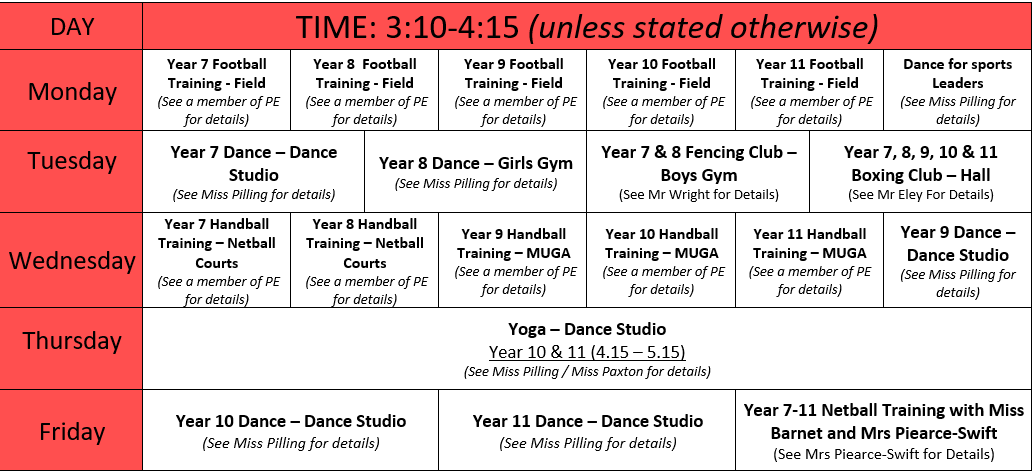 Week 2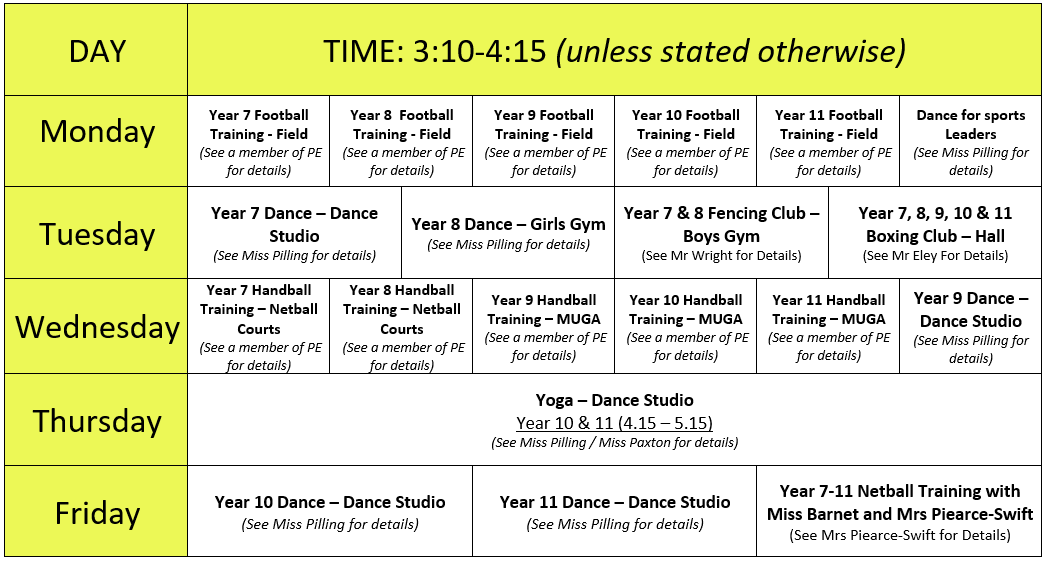 U13 GIRLS FOOTBALL TOURNAMENT
Our U13 girls football team took part in the #internationalwomensday Football tournament in Thornton yesterday.

Our first game was against @chesterfieldhigh which we drew 1.1 with a superb goal from Sophie.

Next up was @ctksouthport , a game that we dominated to win comfortably 5.0 with a brilliant hatrick from Sienna and a goal each for Sophie and Hannah.

Last up was Range High B team and the girls drew 0.0.

In the final. the girls played against a very strong Range A team and kept the game at 0.0, Gracie our goalkeeper saved the day on many occasions and was fantastic! The game went to extra time, ending in 0-0, which only meant one thing...penalties! The girls narrowly lost by one goal, having only conceded one goal the whole tournament so far.

As part of Internationals Women's Day the girls also got to meet Julie Grundy who is LFC Women's Academy and regional talent manager. The girls truly were a great credit to Meols Cop High School, they performed superbly as part of a team and we could not be prouder!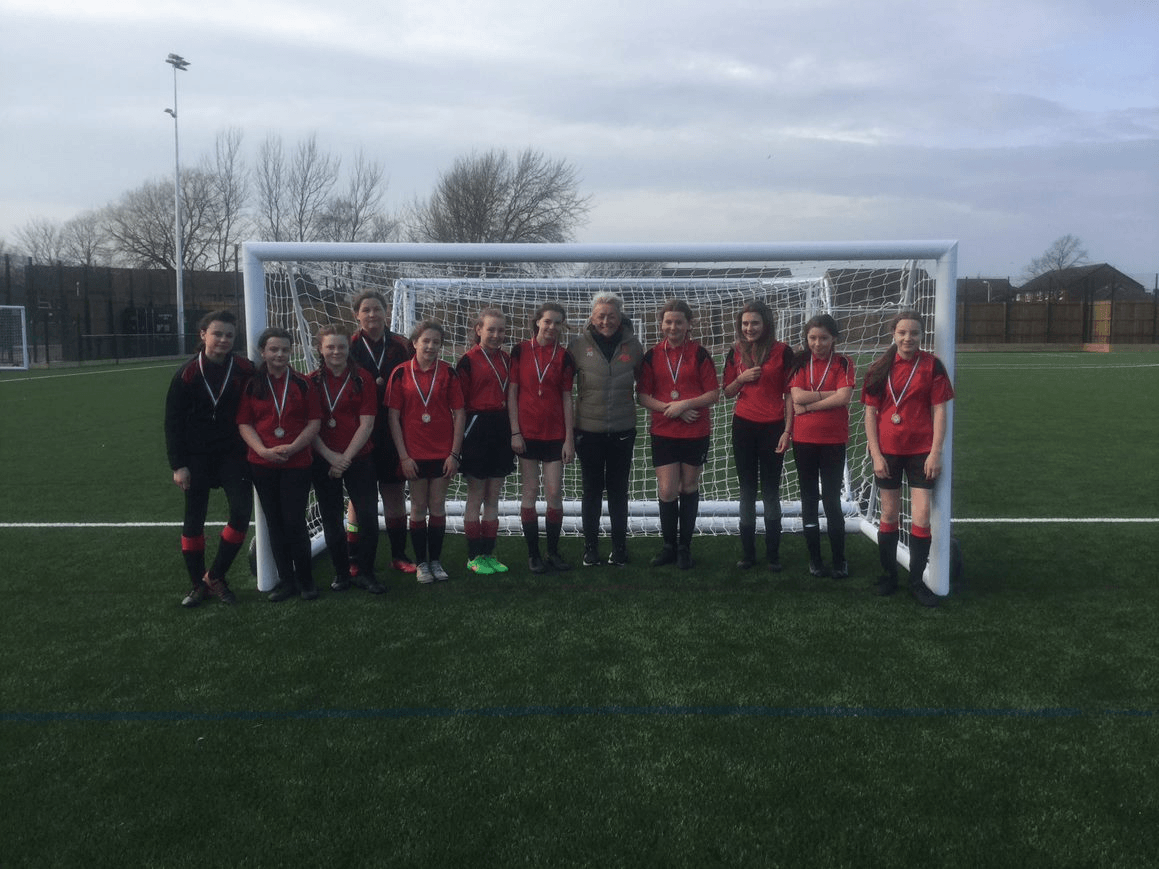 FENCING DUAL COMPETITION
February 2022
For the last 10 weeks we have had some Year 7 and 8 students taking part in a 10 week Fencing program. These students have shown dedication, resilience and respect towards each other and their trainer. Yesterday they competed in the first 'Meols Cop Fencing Dual Competition'. Each student competed against each other in a 3 minute dual, or first to 5 points. A point is awarded for a successful hit on your opponents body.
1st Place - Lola E
2nd Place - Liam N
3rd Place - Kayne S
Zack DS, Amber P and Martha-Mae H also produced some excellent performances but just missed out on the medals. We are so proud of all the students who took part throughout the last 10 weeks and should all be very proud of themselves.
YEAR 7&8 ATHLETICS COMPETITION
February 2022
On Tuesday 8th February we took a group of Year 7 and Year 8 boys to the Sefton indoor athletics school games competition held at Greenbank High School. It was the boys first time at this competition and we weren't too sure what to expect. Our boys were excellent, they competed fiercely throughout and performed to their maximum with some great performances throughout both teams.
Our Year 7 team finished just one point behind the overall winners, and our Year 8 team finished 8 points behind the winning team (each winning race was awarded 6 points)
Considering this was the first time our boys attended this event they did exceptionally well, we were so proud of their commitment and effort. All students represented our school with pride and behaved exemplary.
RUNSHAW VISIT FOR GCSE DANCE WORKSHOP
January 2022
Thank you to the students from Runshaw College who visited school today to perform and lead a workshop for our GCSE Dance students, giving them a taster of some of the work they have covered this year. The focus of the workshop was based on 'HOPES & DREAMS' focusing on the future aspirations of our students. This is a fantastic opportunity for our students to work with Runshaw and experience post 16 expectations of standards in dance.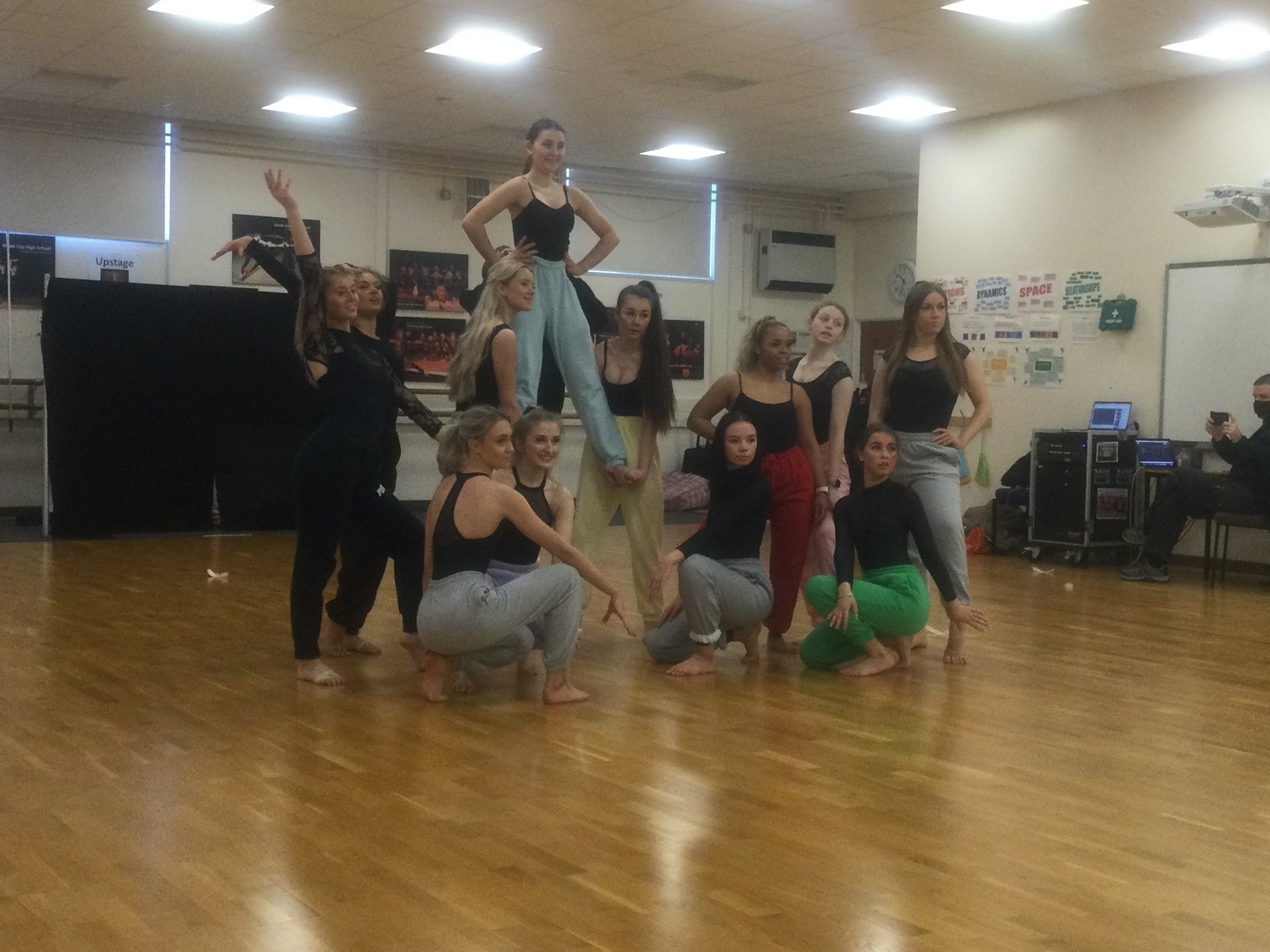 YEAR 10 GIRLS WIN SEFTON FOOTBALL TOURNAMENT
January 2022
A huge congratulations to our girls football team, who attended the U15 Sefton football tournament - AND WON!! The girls won every game, scoring 20 goals and only conceding 2! A special message to Phoebe T who scored 10 goals! Congratulations to the whole team for their outstanding performance and doing MCHS proud!!
Results
Beat Litherland 2-0
Beat Greenbank 2-0
Beat Stanley 7-0
Beat Formby 4-1
Beat CTK 5-1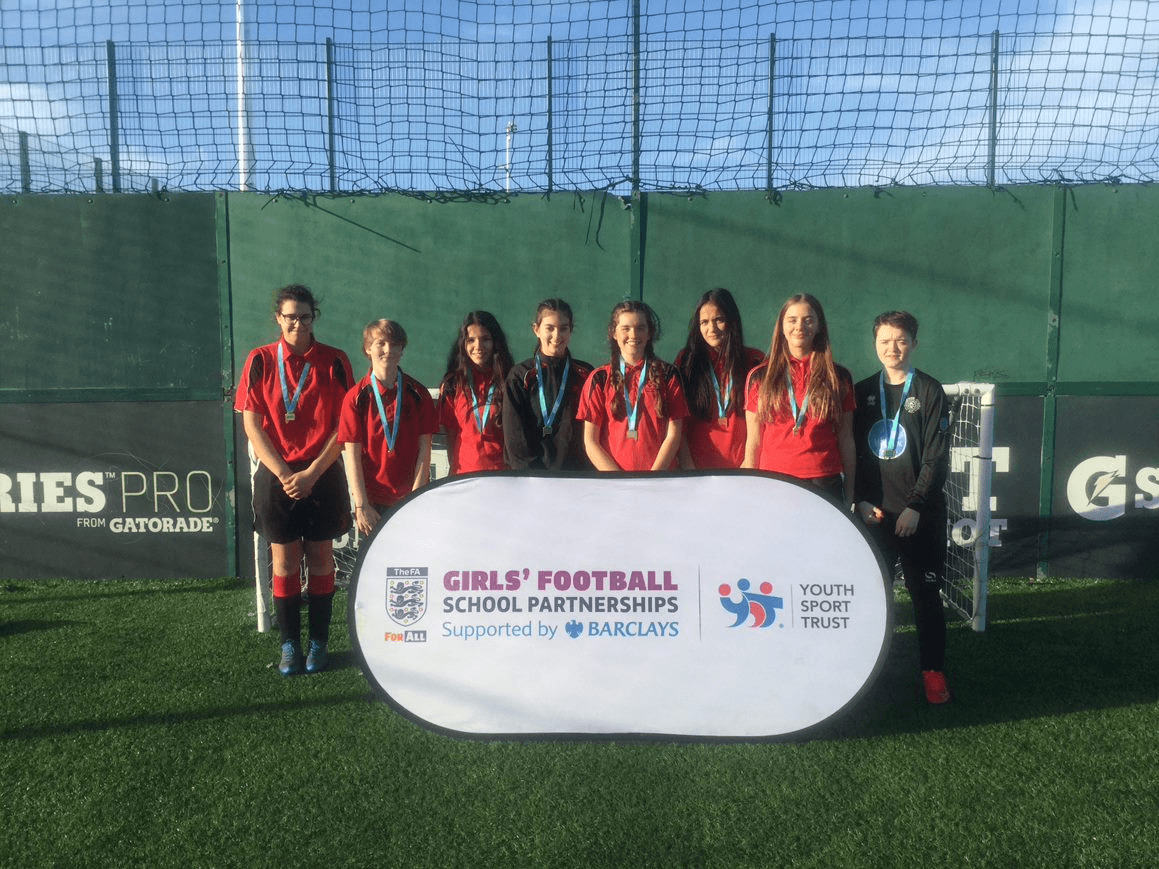 FIRST HANDBALL TOURNAMENT OFF TO A FLYING START
January 2022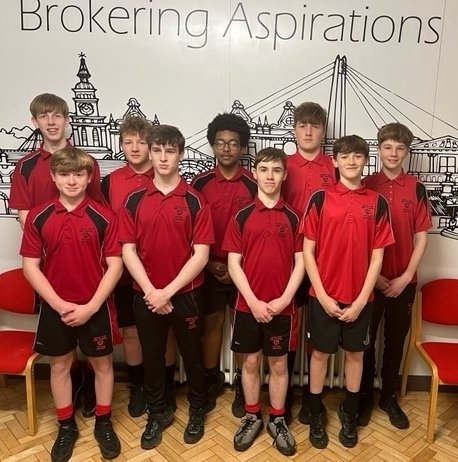 Nine year 10 boys went to Stanley High to play their first handball tournament of the year. The boys were a little nervous as they only had one training session this year, we discussed our formation and strategies prior to our games.
The first game was against Christ The King 2nd team. We were well organised from the onset playing some great handball and showing excellent defensive shape, however Christ The King scored two quick goals which took us by surprise. We didn't drop our heads and we stuck to the task believing in our defensive formation and shape. As time progressed we began to settle and played some outstanding handball, Stephen scoring a couple of goals to bring us back level, Taylor and Joe adding goals themselves we won the game 4-2.
The second game was against Stanley. We played back to back games so we were tired from our first game against Christ The King. Once again we stuck to our defensive plan and had a great shape and played really well. Stanley took the lead after having some great possession, but we equalised almost straight away from some great individual play by Stephen. We then started to dominate the game frustrating Stanley blocking every shot they had and breaking away fast with Joe, Taylor, and Evan tormenting their defence, catching Stanley on the counter attack time and time again! The only thing in our stopping us running away with the game was the Stanley goalkeeper! We finally scored through a great pass from Charlie to Taylor who put us ahead in the game 2-1 to Meols Cop. We were in control of the game for the rest of the match. As time progressed Stanley made the most of a quick breakaway and scored an equaliser. With time running out we didn't have the chance to take back the lead and we ended up drawing the game 2-2.
The last game was against Christ The King 1st team. Again we started really well with a fantastic shape and took a well deserved lead. The entire team played well together, and we quickly ended up 3-0, we were just too quick! We made a few changes to our team and Christ The King scored two quick goals. We composed ourselves quickly and re-establish our shape. We capitalised on a few defensive mistakes and scored a couple more goals. We were dominant and ended up winning 6-2
We won the tournament overall, The lads were really pleased and played very well, they represented our school exceptionally well they battled hard and were deserving winners of the tournament. The Stanley High School Teacher commented on how good we were especially in defence something which we have been working on!
GIRLS FOOTBALL SUCCESS
November 2021
On Thursday 11th November our Year 7 and Year 8 girls football teams competed in their first tournament of the season in Thornton. Year 7 were represented by Jess, Abigail, Gracie, Skye, Amirah and Annabelle. The girls played with great enthusiasm and determination beating Stanley 1.0 (goal from Abi), beating Greenbank 1.0 (goal from Jess), drawing with Litherland 1.1 (goal from Abi) and beating Formby 1.0 (goal from Jess). In their first ever football tournament for the school the girls progressed as group winners into the semi-finals with a game against Chesterfield. Unfortunately after a tough battle the girls lost this match but came away with a great amount of pride!
The Year 8 team were drawn into a tough group. The team was represented by Sophie, Neve , Summer, Faith, Ruby, Sienna, Hannah and Jasmine. Their first game was against Stanley who were a very physical side and drew 0.0. Their next game again was a draw against Greenbank at 2.2 (goals from Summer and Sienna). The girls then went onto beat Litherland 2.0 (2 goals from Summer) and then unfortunately lost to Formby 2.0. The girls battled bravely but unfortunately finished a third in their group and didn't make it to the semi-finals. The Year 8's then focussed their efforts on encouraging and motivating the Year 7 team in their semi-final game.
NEXT ROUND HERE WE GO!!
November 2021
Result - MCHS 3 - Deyes High 2
If there was a game to watch it was this one! Our year 8 boys played in the prestigious Sefton Cup, against Deyes High school who are always a real tough opponent. Upon our arrival at Deyes in Maghull, we discovered that the Referee had unfortunately taken ill. Our very own Mr Turner had to leave his allegiance at the door, and take the responsibility of officiating this difficult cup.
For the first half we strategically set up in a 3-5-2 formation to overload their talented midfield; even though Deyes had academy players playing in the midfield, we wanted to stifle them with numbers.
We started uncharacteristically quick, 'out of the blocks' at 100mph from the first whistle. Not only did we entertain with some lovely football in midfield, finding pockets of space on the wings, but Charlie and Jordan also caused havoc with their pace and skill. Despite some early chances, with near misses from Joe and Ollie, we didn't capitalise on our fast start. We continued to dominate the game, endeavouring to exploit strong position, but unfortunately we lacked composure in front of goal. Credit to the Deyes goalkeeper, who certainly kept their team in the game!
As the game progressed, we continued to control, assisted by Jamie (our very own 'Paul Scholes') whose vision was fantastic; his quality through-balls found our attackers frequently. Isaac, 'the enforcer', complemented Jamie's prowess in midfield, with countless blocks, interceptions, and tackles, stopping potential counter attacks. Although we seemed comfortable, with our defence, Theo, Rory and Felix, marking well and stopping the Deyes advances, at half time it remained 0-0.
The squad came in for a team talk, and we reiterated the importance of teamwork, effort, and attacking football - we knew our time would come if the team continued to perform in the second half!
As the second half kicked off, the game remained tense, with both defences well-structured and resilient. Out of nowhere, Deyes slotted a scrappy goal, an uncharacteristic mistake from a goal kick. However, a few tactical changes, shifting Ollie into midfield and Connor up top, had a huge and immediate impact. Whereas Ollie, almost Roy Keane-esque, regained possession with a ferocious tackle, Jamie then played an audacious ball to Connor who struck just wide of the post - we were gaining momentum once again!
Finally, we broke through! A ball over their line of defence to Connor, who left their back line for dead as he went through one-on-one, smashing the ball into the roof of the net! The boys were ecstatic: all running, cheering and celebrating with Connor! It was 1-1!
Almost straight from kick off Deyes struck back, another uncharacteristic mistake in defence, and they capitalised. Although it was 2-1 to Deyes, we knew we had to regain composure and go again. We continued to press... We knew our system was working! The Deyes' defence couldn't stop us!
Then it happened -the silky Jamie Simpson dribbles the ball from the half way line, driving past one player, two players, and, from thirty yards out, hears Mr Easom bellow "SHOOT!" Jamie did not need telling twice. He produced a miraculous shot, which flew into top corner, leaving the keeper with no chance. If there had been live commentary, cries of "unbelievable Jeff" would have echoed around the stadium! All of our lads celebrate with Jamie.
2-2 after an absolute world beater!
We continued to push for the winning goal, but time wasn't on our side. With only two minutes left on the clock, a shoot-out was in sight for both teams. But... Connor broke once again, driving into Deyes' box, and unselfishly squared the ball to Charlie. who slotted the ball cleanly into the bottom corner - jubilant scenes erupted as our lads sprinted over to Charlie to celebrate! 3-2 Meols Cop with just 2 minutes left.
Naturally, we now defended with 10 men behind the ball, parking the bus in true 'José Mourinho' style. As the final whistle blew, our lads celebrated the hard-earned victory. Through to the next round, feeling as though we could take any team in Sefton.
We are immensely proud of our boys, not only because they were resilient, determined and brave, but also because their teamwork and communication was outstanding, with each person battling for their team mate. It seems unfair to highlight individual accolades with such a team performance, but the man of the match, voted for by the lads, went to Connor Dolby - he truly was outstanding! All boys who went to the game played a vital role; their selflessness, courage and desire to win helped us to get over the line !
ONE FINAL WHO RAH!!!
November 2021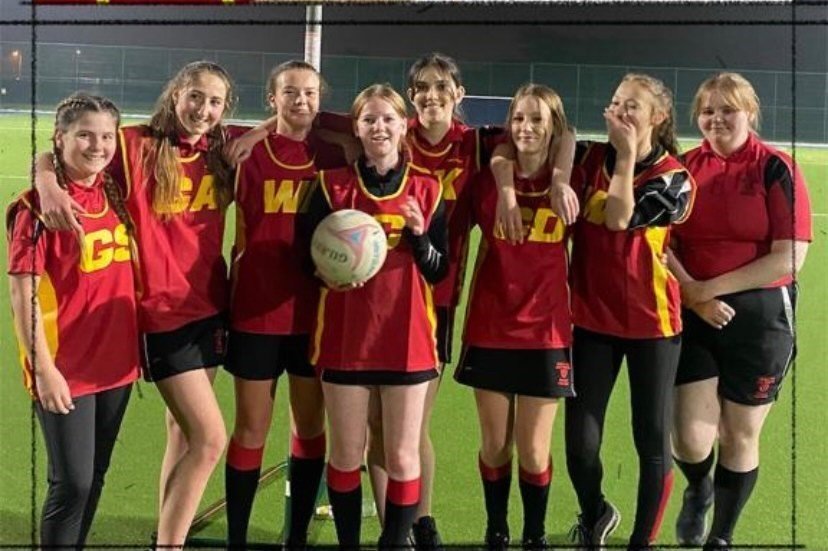 On Monday 15th November our year 11 girls played their final ever netball tournament for MCHS. From starting out as small eager year 7s to mature young ladies who have done our school immensely proud over the years, we all want to say a massive thank you and wish you luck in your netball in the future.
With the cold dark wet nights upon us we were playing under the flood lights of Greenbank High School with 7 other strong teams competing for the top prize.
The girls started off playing Range first in a tight first half game but the tall GS was too hard to defend against. Next two games we polled against Stanley and Greenbank. The girls were sooooo unlucky not to come away with wins in these two games. They played some fantastic end to end netball and had some great movement off the ball, passing and shooting well throughout the games and unfortunately just fell short and couldn't hang on for the win.
After a rest break the next two games were against Formby High and a strong Scarisbrick Hall School, which we knew would be tough games! The girls prepared themselves mentally and did us so proud showing resilience and teamwork and never dropping their heads and they kept pressing and putting pressure on them as much they could.
Coming back from two hard defeats our final game was against CTK and with the girls knowing this would be their last ever tournament together they brushed off the other games and were determined to go out with a bang and what a performance they showed not conceding a single goal and scoring 7!
The girls finished in 6th place overall and had an amazing time together, working as a team and coming together. On the way home they had some party bus lights to set the tone of a fantastic 5 years (minus covid) of netball in MCHS and thank you for your hard work and commitment over the years. You have all matured and flourished at your own pace and we couldn't be more proud of the young women you have become. From the PE department and everyone at MCHS.
FENCING CLUB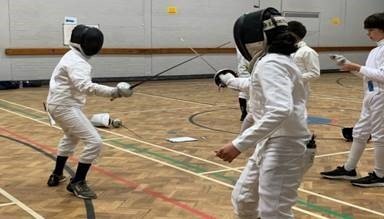 Exploring new sports is said to come with many benefits for both mental and physical health.
Independent sports make children more self-reliant: Since fencing is an independent sport, your child will learn how to work alone, and to take responsibility for their own successes or failures. They will have to think for themselves, develop the confidence to compete, and learn from their mistakes. However, while they may be alone against their opponent, they will also have plenty of social interactions with the other children in their after-school classes.
Fencing improves concentration: Fencing will teach your child how to stay focused and follow instructions carefully. These are important skills for life!
Fencing uses the brain as well as the body: Fencing is a very strategic sport, almost like a physical form of chess. It teaches children to think for themselves and to analyse the way other people think. Your child will learn how to out-think their opponents quickly in order to succeed in their matches.
I know the students are very excited to start and they will be completing a 10 week block within school. After this they will be invited to the YMCA to join up with a fencing club and further improve their skills.
YEAR 9 BASKETBALL TOURNAMENT
November 2021
Monday 15th November our Year 9 basketball team headed to Stanley High to play a number of local schools, with each game lasting 10 minutes. Despite only trained once, the boys were so excited for the tournament.
First game - Birkdale - We started slow as our nerves took over us and we started very slow. Birkdale, on the other hand, started very well. They continued to put us under pressure and took their chances throughout the game.
Result - MCHS 2 - Birkdale 18
Second game - Christ The King - We regrouped quickly and talked about what we can do to improve. The lads certainly listened and implemented the tactics put into place as we took on CTK. The boys started very fast scoring in the first 15 seconds. You could see that they had really started to enjoy the tournament and had forgotten the defeat to Birkdale. CTK were strong and played very well as the game was end to end with both teams defending very well.
Result - MCHS 4 - Christ The King 7
Third game - Range High - Although the lads lost they knew they had played well and it was only a matter of time until they would start winning. Next up was Range High. Once again we started very fast, taking all the opportunities that came along. The boys defended fantastic while still scoring at every opportunity. The boys enjoyed passing the ball around the court in a fast transition not giving Range the chance to get close.
Result - MCHS 14 - Range 0
Fourth Game - Stanley - We knew Stanley would be favourites as they had not lost a match yet but with 4 minutes played we were 7-0 up. Stanley did not know what had hit them and looked lost. As the game went on Stanley started to take more control. We picked up a few injuries which really stopped the flow of our play. They helped Stanley who came back into the game to take the match 13-7. Our boys seemed very deflated but as we all knew that Stanley had now won the tournament our effort to beat them was a very good performance.
Result - MCHS 7 - Stanley 14
Final game - Formby High. All the anger and disappointment that the boys felt came out and they gave the performance of the tournament. They communicated fantastically throughout the match. Passing the ball around fast, defending as a team and encouraging each player if someone made a mistake. We won the match 20-0 and it was a complete perfect performance from the whole team.
Result - MCHS 20 - Formby High 0
Mr Wright, PE Teacher said "Although we lost 3 games our boys showed true sportsmanship, shaking hands with each of the opposition and thanking the referee. They picked their heads up after defeat and bounced back to produce some fantastic performances. Overall the boys finished 4th, on another day that could easily have been 2nd."
WHEN IN DOUBT.....SHOOT!!
November 2021
On Tuesday 9th November our basketball team from year's 10 & 11 took part in a local tournament held at Stanley High School. The schools involved were Meols Cop, Stanley, Birkdale, Christ The King, Formby High and Range. The tournament was an opportunity for our students to play against all the local schools and to enjoy their basketball in a competitive way.
Our first match was against Stanley, and although we made a strong start, Stanley were just too strong and came out winners. We took an early 8-0 lead against Range and even with some amazing fighting spirit from Range, our lads pushed through and took the match 12-8.
Christ The King was next up and started well, scoring early in the game. We missed a few lay ups that in the end made the difference as we lost the game 12-10. Formby High next, and although our boys seemed tired, they played fantastic. They scored every layup and defended a very strong team fantastically. We went on to win this game 20-3.
The final game was against Birkdale and both teams played very well with both defences doing everything right. We found ourselves 5-2 down with 3 minutes to play. Our boys fought back again to make it 5-4 and with 30 seconds on the clock we had two fantastic chances to win. The whistle went and we lost 5-4.
Our boys finished the tournament in 4th place. They showed great character and team work throughout the tournament. For many of our boys this was the first time they have played in a competitive basketball game and I know with more training and experience they will get better as a team.
Year 8 Football Tournament
October 2021
Local schools got together for an action packed football tournament between Meols Cop, Range, Stanley High, Birkdale and Formby High. The purpose of the tournament was to have fun and to build a competitive squad, since the pandemic stopping all fixtures last year. This was their first outing as a year 8 team and they all did amazingly well. The boys represented Meols Cop impeccably, and teachers from visiting schools were very complimentary on the boys attitude, work ethic and respect.
Results of the matches:
MCHS 0 - Range 0
MCHS 2 - Formby High 2
MCHS 0 - Stanley High 1
MCHS 0 - Birkdale 0
"The boys were a true credit to our school and gave a great account of themselves. They should all be incredibly proud of themselves" Mr Easom- Subject Leader for PE.
First Win for Year 7 Football Team
October 2021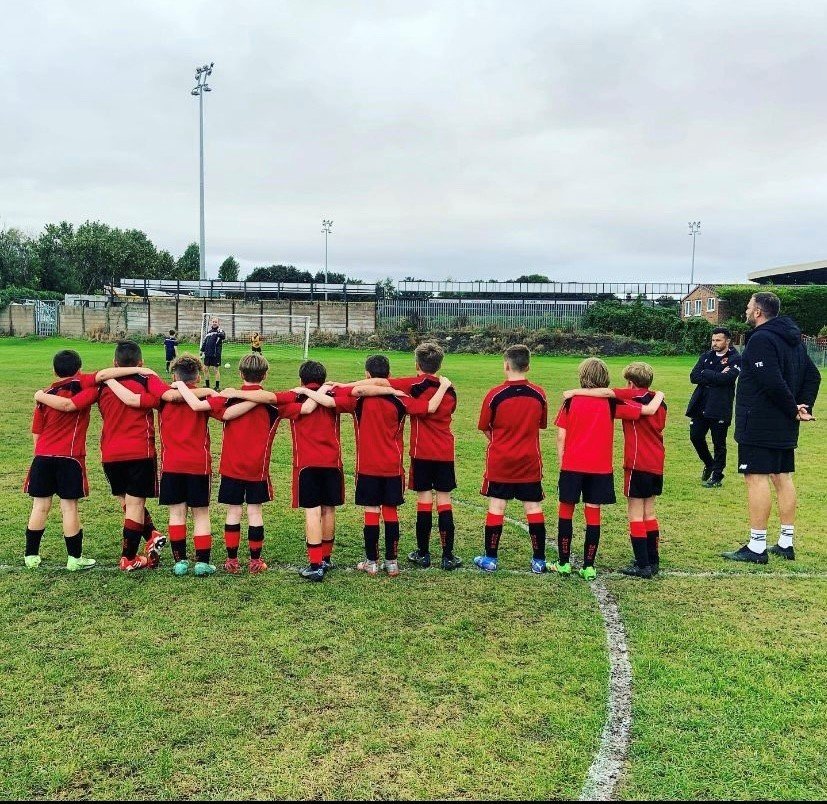 Our year 7 boys football team won their first game of the season, progressing to the next round of the Sefton Cup, with a thrilling game against Sacred Heart. The game was a brilliant spectacle, both teams played some great attacking football, the result had to be decided on the night, drawing the game 3-3 in normal time. The game went straight to penalties and Meols Cop won on sudden death.
We are so proud of the boys, some playing their first ever football match and all playing their first ever game for Meols Cop High school. Not only did they listen to every instruction given but executed the game plan perfect and showed real character to win on penalties.