Welcome to Meols Cop High School...
"This school crackles with ambition. Students are courteous and polite. They take great pride in their school."
Ofsted, 2012
A school for visionary thinkers, ambitious innovators and pioneers is what's promised by our new Headteacher, Mr Ian Parry.
Ian Parry is to lead the team here at Meols Cop following his time as Principal at Liverpool Life Sciences UTC (University Technology College), the best performing UTC in the UK. The UTC has recently been listed as one of the top 10 most innovative schools in the country and he brings a wealth of experience around working with local businesses to create direct pathways into quality jobs, apprenticeships and universities.
He is an exceptional teaching and learning practitioner, with a reputation for hosting a range of inspiring teachmeets, Tedx Youth talks and Ignite events. Ian is also well known across the UK for his passion for behaviour management that mirrors the real world. He has created an ethos of 'Every Day is an Interview' which helps young people to understand and demonstrate the values and attributes our employers need and work in a positive way. He is passionate about helping to motivate and inspire young people to succeed.
Ian is returning to work in his hometown of Southport to lead the team at this outstanding school. He says, "I have grown up in Southport and it is where I choose to raise my three children. I am extremely ambitious for the Meols Cop community, its students, parents and staff and passionate about creating new opportunities in and out of school that will benefit us all. I am so proud to have been appointed Headteacher at Meols Cop and am looking forward to working with the extremely talented team."
Parents of our new year 6 students will have an opportunity to meet Mr Parry on Thursday 27th June and we are looking forward to welcoming prospective students to Meols Cop for our Open Evening on Wednesday 11th September.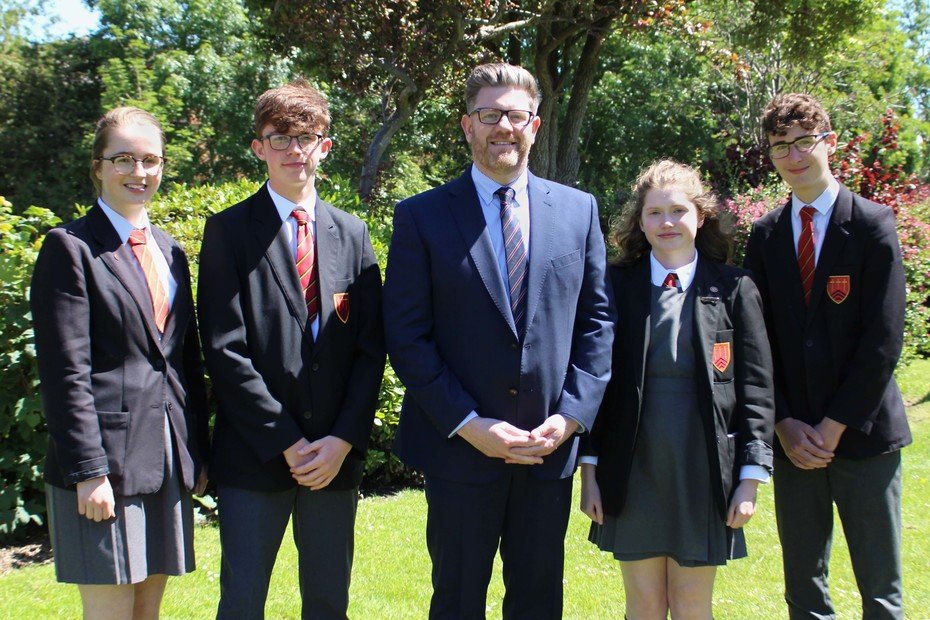 Our parents told us!
It's really important that our parents and carers are involved in as much of our school community as possible. Parent's evenings, review days, feedback on reports and good letters and calls home all help us to work with you and to talk about your child's progress. However, please do contact us at any time to discuss any issue you want to, no matter how small you may feel it is. People are often taken aback when I respond in person because they tell me that they thought that "Mr Jones will be too busy to talk to me!" Not true. One of my most important jobs is to listen and talk to everyone in our community and I need to know when you aren't happy with something and even better when you are happy!
Parental Engagement and Support
I have spoken to lots of very happy parents over the last few weeks at our different events and as always am incredibly proud of what we are achieving as a school and how we are continuing to develop the absolutely crucial role of working with our parents. I know from my tour visitors that our mums and dads are singing our praises in primary playgrounds and all around Southport and that so many others wish to join our school as our reputation continues to spread and grow. I thank you all for supporting us but, of course, as a school we need to constantly show our visitors and those already in our community that we are actually as good as our friends are saying that we are! There are so many wonderful events being organised and so much great learning being observed as I visit our classrooms, that I've almost forgotten we are only 5 weeks into the new school year and almost at half-term! Thank you to year 11 parents who attended our revision evening, which was standing room only and to year 7 parents who, I know appreciated our early meet the tutors' evening. Their survey is below so you can see what their views are on those crucial aspects of year 6/year 7 transition and early days at Meols Cop. It is really important that I know the honest opinions of our parents, so that I can respond if there are any areas where we aren't living up to our vision of inclusive excellence for all to help me continue to sustain and develop the highest quality learning, teaching and care possible. Thank you to all mums, dads and carers. I really appreciate your support and encouragement, it makes a huge difference to our school.
Year 7 Parent's Evening Survey
| | | | |
| --- | --- | --- | --- |
| | Strongly agree | Agree | Disagree |
| My child moved from yr6 to yr7 smoothly | 76.00% | 24.00% | |
| The school open evening and any tours/ parents information evening answered questions you may have about the school and helped you make the right decision about applying. | 59.00% | 41.00% | |
| My child enjoyed the taster day in Year 6 | 76.00% | 22.00% | 2.00% |
| My child understood the high expectations we have of their learning and behaviour before joining us | 64.00% | 29.00% | 7.00% |
| Were all your possible questions answered before your child started? | 51.00% | 49.00% | |
| The bulletins/parent mail/communications between school and home have kept you informed about school life | 56.00% | 37.00% | 7.00% |
| My child was looking forward to starting Year 7 | 66.00% | 34.00% | |
| My child feels safe at MCHS | 65.00% | 35.00% | |
| My child liked his/her new classes because he/she had some primary school friends but lots of new friends to meet too | 54.00% | 44.00% | 2.00% |
Need to find out more about ParentPay?
TRAIN TO TEACH
Meols Cop is a National Teaching School, we lead the North Sefton Coastal Teaching School Alliance.
To find out more please visit:
We're looking for new teachers to help change the lives of students at Meols Cop High and in our partner schools.
As a trainee not only could you receive a bursary of up to £26k, but you'll have the reward of developing local people you can be proud of.
For further information please contact Carolyn Sharp
Email: sharp-c@meolscophighschool.co.uk
Latest School Calendar Events
New year 7 students start.

06

Sep

2019

8:50 am - 3:10 pm @ Meols Cop High School

Year 11 students start

06

Sep

2019

11:05 am - 3:10 pm @ Meols Cop High School

All year groups return

09

Sep

2019

8:50 am - 3:10 pm @ Meols Cop High School