British Values
Promoting British Values at Meols Cop High School
Just after the guidance on British Values in schools was published in November 2014 by the DFE and Lord Nash wrote in the document that, "all schools have a duty to 'actively promote' the fundamental British values of democracy, the rule of law, individual liberty, and mutual respect and tolerance of those with different faiths and beliefs", we undertook a student voice survey of all learning tutor groups in the school to find out exactly how effectively embedded the students thought that British Values were in our school. The survey was posted on social media and praised by a prominent HMI. The survey details and Q/A can be found here- http://www.meolscophighschool.co.uk/dep-blog/?p=1508
The slide below explained the knowledge and understanding the government expected students to have of British values in the curriculum in its broadest sense.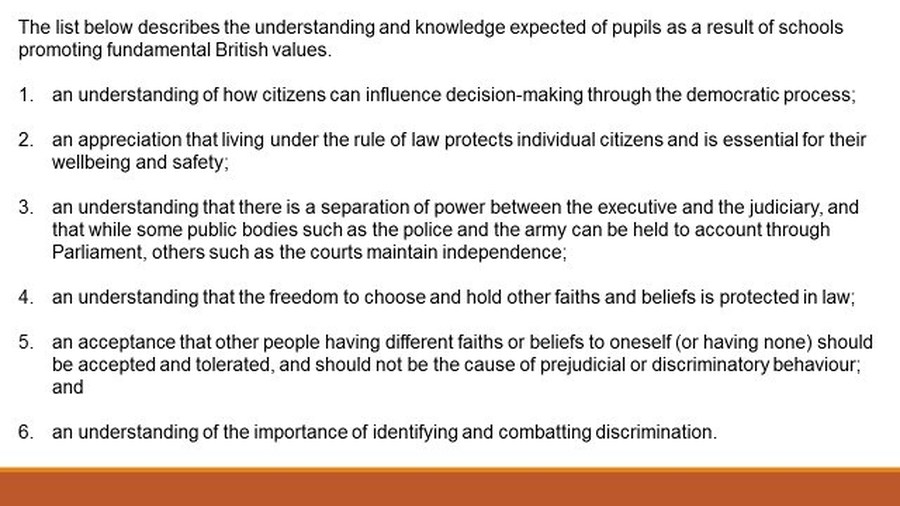 Rather than a staff audit, the students were asked to provide evidence and their views.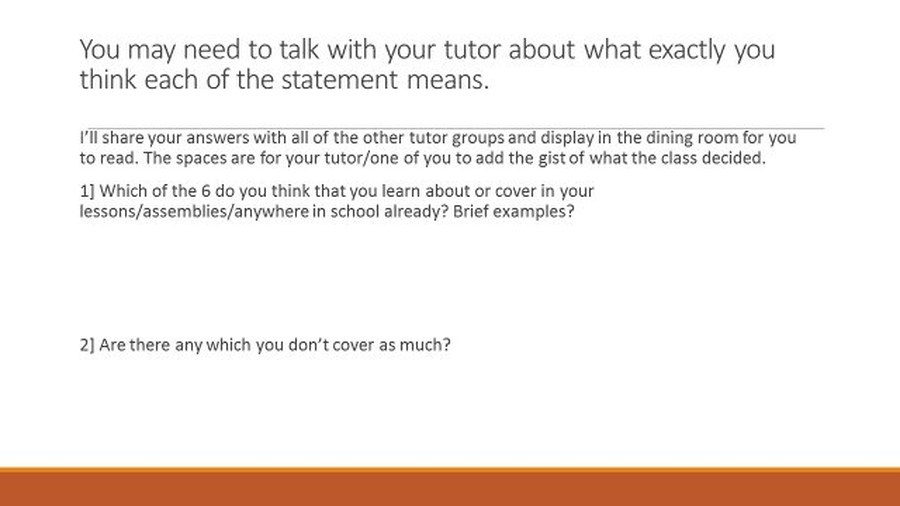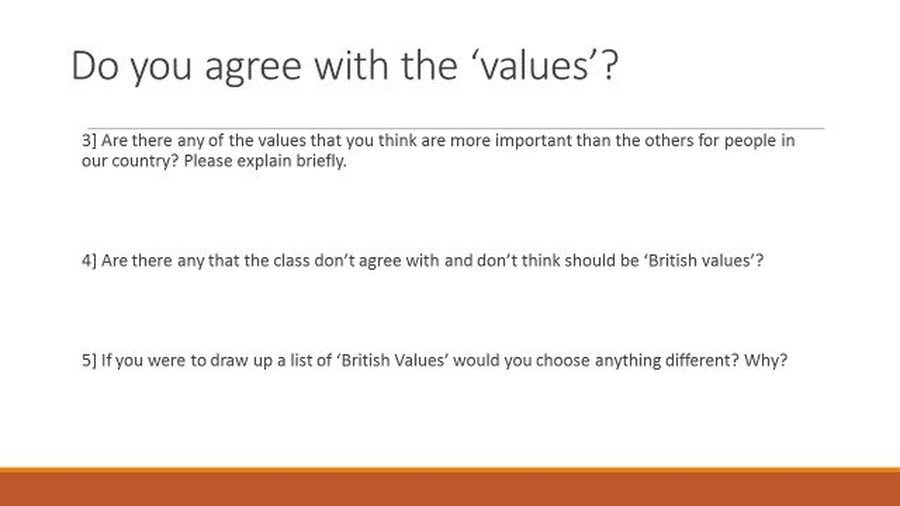 The taught curriculum areas where British Values was covered already, according to the students was in PSD and RE with smidgeons in history, English and RE. The actual descriptors covered least were;
An understanding of how citizens can influence decision-making through the democratic process;
An understanding that there is a separation of power between the executive and the judiciary, and that while some public bodies such as the police and the army can be held to account through Parliament, others such as the courts maintain independence.
I used the DFE descriptors rather than giving student friendly sentences and the separation of power was difficult for them to understand even with guidance.
The values that they thought were more important than the others covered a range, apart from 1 and 3 but probably more went for 2 and 4.
An appreciation that living under the rule of law protects individual citizens and is essential for their wellbeing and safety;
An understanding that the freedom to choose and hold other faiths and beliefs is protected in law;
Basic Values-Democracy
The recent election has promoted form discussions re the democratic process and year elections to the student council are organised each year with all students voting to choose their candidates who canvas and speak at the year hustings. We consult our students 2 or 3 times a year on whole school issues, although they may not have considered this as 'influencing opinion' in comparison to the student elections. Our 2 most recent student voice engagements have considered marking/feedback, growth mind-set and our assessment system. The results are displayed around school and on our web-site to show that we have listened to their voice and any adaptations to our policies/pedagogy are explained. We believe that one of the strengths of our school and a major factor in the pleasing progress shown in student learning is the development of a far more articulate body of students who not only have assumed more responsibility for their own learning but who will leave us as responsible citizens ready to display the resilience and character developed at Meols Cop for the benefit of our democracy.
Basic Values-The Rule of Law
We have a strong BFL system at Meols Cop to ensure that all students behave responsibly and are respectful to each other so that learning develops in a supportive and caring society. Students are encouraged to make the right choices and decisions and our Going for Gold system rewards all of the individuals who wear our uniform with pride, attend well and are punctual, behave maturely and who work their hardest. By following our rules and expectations, our students will be in the words of the school motto-'prepared for life.'
Basic Values-Individual Liberty
Every student who attends our school has the right be safe, to be taught well, to be challenged and stretched, to receive individual support and intervention when necessary, to receive appropriate advice on any aspect of learning or future learning and to have the opportunity to participate in extra-curricular sporting, creative and cultural activities. Behind all of our data is a young adult not a number and our students must always be treated and cared for as individuals in their own rights.
Basic Values-Mutual Tolerance For Those Of Other Faiths And Beliefs
Students of all faiths and beliefs are welcomed into our school community. Over the last 5 years we have welcomed a large influx of migrant East Europeans into Meols Cop plus lesser numbers of Portuguese students. We have adapted our curriculum and teaching to support their learning and our students have made new friends and incidents of any lack of tolerance have been absolutely minimal. When sadly a Polish student lost her life, the students were devastated and asked for a bench in her memory. A lack of tolerance is not tolerated-it is not the British or Meols Cop way and lessons taught in RE, English and history re the Holocaust about the disastrous past times when some societies lacked basic humanity and decency are studied and learned from.