2016 G.C.S.E. Results.
Tears of Joy for Examination Magic!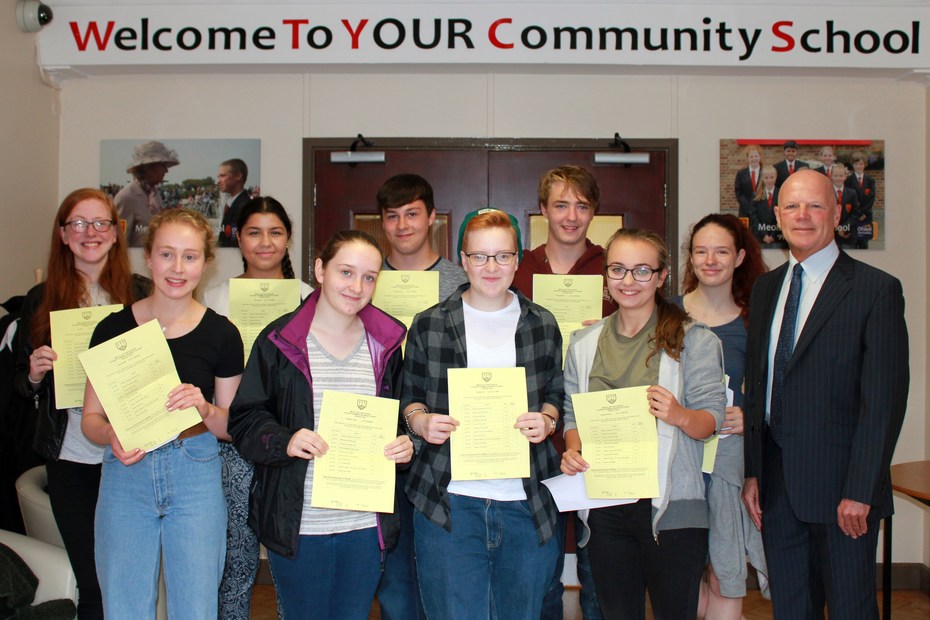 Well done to our year 11 class of 2016! Not only were you a joy to work with during your 5 years with us both in the classroom and in the great extra-curricular commitment that you showed, today has proved that your hard work has been rewarded with individual targets being beaten and fantastic learning progress being evidenced by so many of you. I quite simply couldn't believe today's results when I read them! No individual names and grades from me or claims of whole school success-today belongs to each and every one of you and you should share your joy with those who are closest to you and who have supported and encouraged you throughout your school days. Thank you to them too.
Enjoy the final days of summer and continue to work hard, carrying your Meols Cop Mind Set with pride wherever your future journey takes you. If you do have any concerns about your future educational or careers paths, do come back and see us. This is, and will always be, YOUR Community School and you will always be welcome here and we love to find out about the achievements of our ex-students. Everyone at MCHS wishes happiness and success to you all.
David Jones


Last Friday, the Ramada, was once again the setting for the year 11 Prom and what a wonderful evening it was for our young ladies and gentlemen in their finery. Mr Vinaccia treated us to an Elvis song, the tutors danced to a variety of rap and hip-hop in a treat of a floor show and Mr Brownett was a rather dapper master of ceremonies. The decorations were stunning thanks to Mrs Booth and fellow tutors and the vote for Prom Royalty went to Erin Thornton and Alistair Lyon.
There were over 100 students and staff present and everyone had a great time. Some of our year 11 students have been back to help out in Sport's Week but for many the next trip back to MCHS will be on Result's Day. Fingers crossed, good luck and thank you for 5 years of hard work and committed learning the Meols Cop Way!
Our parents told us!
It's really important that our parents and carers are involved in as much of our school community as possible. Parent's evenings, review days, feedback on reports and good letters and calls home all help us to work with you and to talk about your child's progress. However, please do contact us at any time to discuss any issue you want to, no matter how small you may feel it is. People are often taken aback when I respond in person because they tell me that they thought that "Mr Jones will be too busy to talk to me!" Not true. One of my most important jobs is to listen and talk to everyone in our community and I need to know when you aren't happy with something and even better when you are happy!
My responses and the results of our latest parental questionnaire is here for you to see.
Latest School Calendar Events
No Pens Day

05

Oct

2016

12:00 am - 11:59 pm

No Pens Day

Year 11 EHC Transition Parents' Evening

05

Oct

2016

12:00 am - 11:59 pm

Year 11 EHC Transition Parents' Evening

No Pens Day

05

Oct

2016

No Pens Day

Year 11 EHC Transition Parents' Evening

05

Oct

2016

Year 11 EHC Transition Parents' Evening

Year 10 Revision Evening (Eng Lit Exam)

06

Oct

2016

12:00 am - 11:59 pm

Year 10 Revision Evening (Eng Lit Exam)