Hello! If you are reading this guide then it is likely that you are having to work at home. It can feel very strange to be at home working away from school especially when some of your classmates are in school and if you are healthy and well. You might feel worried that you are missing out on learning and seeing friends or on the other hand you might feel comfortable learning at home. But you are not on your own, you are still linked in to your classes through Microsoft 365 and Teams.
Your teachers have been working hard to make sure that you have work set for each subject class. Things are a little different this time compared to lockdown. Your teacher might not be able to respond on Teams as quickly because they are still teaching in school. However, you can still contact them via email or in your Teams and they will reply when they can.
If you are feeling well then we are encouraging you all to get yourselves logged in to Microsoft Teams, this is where you will find your Home learning each day. Try and get yourselves organised to see each class subject. Find a quiet area to work if you can and follow your daily timetabled lessons as much as is possible. Get comfortable, take regular screen breaks and please ask us for help if you are struggling.
Class Times
Year 7 & 8
Aspire – 8.50 – 9.15
P1 – 9.15 -10.15
P2 – 10.15 -11.15
Break – 11.15 -11.40
P3 – 11.30-12.30
Lunch – 12.30-13.10
P4 – 13.10-14.10
P5 – 14.10-15.10
Year 9,10 & 11
Aspire – 8.50 – 9.15
P1 – 9.15 -10.15
P2 – 10.15 -11.15
Break – 11.15 -11.40
P3 – 11.40-12.40
P4 – 12.40-13:40
Lunch – 13.40 – 14.10
P5 – 14.10-15.10
Login Guides for Microsoft 365
To access Microsoft 365 on the internet, just click on the "Microsoft 365" link in the Student drop down menu, top right of this page, or browse to www.office.com. Click on the "Sign In" button, then enter your school email address and click "Next".
Please note the format for the pupils log in details:
Example for Joe Smith - email is the surname-initial-leave year - examples below:
Year 7 smith-j-26@meolscop.co.uk
Year 8 smith-j-25@meolscop.co.uk
Year 9 smith-j-24@meolscop.co.uk
Year 10 smith-j-23@meolscop.co.uk
Year 11 smith-j-22@meolscop.co.uk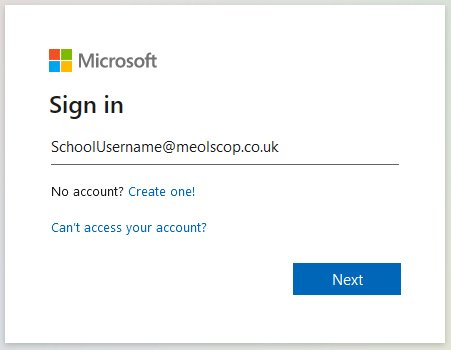 Then enter your school password and click on "Sign In".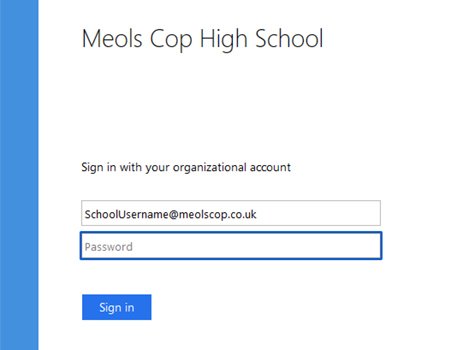 You will then be taken to your Microsoft 365 home screen where you can access Teams, OneDrive, email and more. You can also install Microsoft Office applications on your PC. To install Microsoft apps on your phone or tablet see the guide below. Please note, use of Microsoft 365, via either the website or an app, requires a connection to the internet.
We recommend that where possible individual apps, such as Teams and OneDrive etc, are installed on the device you use to access them. The apps work better than using a web browser. Please also make sure your device has been fully updated for best compatibility. If you have followed the instructions in the documents above but you are still having problems please contact our IT Support unit directly, giving as much information about your device and the problem you are having as you can, by emailing itsupport@meolscop.co.uk
Frequently Asked Questions